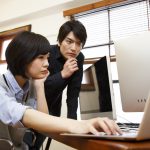 When you hear chat support, you may image services such as EC site and manufacturer support of users
Certainly, the channel called chat is very effective for BtoC's service. By using it, you can improve the response speed to inquiries, improve customer satisfaction with it, and reduce operator costs.
Many companies are now working on chat support that only some foreign-affiliated manufacturers have been working on.
However, about half of companies (about 250 companies) that introduced our ChatPlus are companies that provide BtoB services.
It is not used as user support, but as a marketing tool to acquire deals.
This article summarizes the six reasons why chat will be a valid channel in BtoB marketing.
If you are a salesperson or in a position to support sales, you must be surprised by the overwhelming advantage of chatting.
Please read it.
1. Inquiries increase
When companies ask inquiries to companies, such as want to buy something, want a quote, want to know the specification, two channels have been used so far.
The first one is the inquiry form (mail).
However, in the case of the inquiry form, there are many input items such as company name, name, e-mail address, etc., and the threshold for inquiries will be high.
The second one is the phone.
Depending on people, it is more difficult to feel free to contact by telephone.
The inquiry side does not make inquiries by telephone unless the needs become apparent to a certain extent.
When you just gather some information, you will rarely inquire by phone.
In that respect, if it is chat, there are few input items so you can immediately contact us.
Also, since customers just gathering some information can talk without any hesitation, the number of inquiries will increase drastically.
In fact, the average number of inquiries has increased by about 150% on our actual results.
In addition, you can present options to users by using the chat bot function. From choices, we can grasp potential tasks and needs, introduce the benefits of products and services. So we can expect inquiries to be increased further.
2. Make response time shorter
Response time is important for BtoB inquiries.
Basically, a company that responds quickly is supposed to do a good job.
Chat is short sentence communication.
Since it is a channel to make quick responses, the speed of exchange is overwhelmingly improved, and you can let customers think that it is "a company that responds quickly."
To solve problems quickly can give customers satisfaction and even some kind of pleasures.
3. Polite hearing
Compared to BtoC service, BtoB services are complex in many ways.
Under the business model where it is difficult to set unit price, when the customer wants to know the price,  it is necessary to hear various things to present the price. For example, WEB production, system development, SES etc.
However, you can do a detailed interview on the spot if you have chat on the WEB site,.
In the case of e-mail, there are cases in which the price is presented after one week, two weeks. However in chat, price can be presented in 10 minutes.
4. Annoying sales calls decrease
When you show your phone number on the homepage, sales phones might come often.
Recently, the number of companies that do not post phone numbers on the homepage is increasing due to the decline in productivity because of sales calls.
However, even in such case, we sometimes receive sales calls from the inquiry form.
Because of the mechanism of chat, it is difficult to take a sales method that they inquire a lot of companies in order, so sales calls are drastically reduced.
In addition, our ChatPlus also has the function to hide chats for annoying visitors.
5. Get names and addresses of companies
ChatPlus displays the company name and address of the visitor in real time got from the IP address and internal and external database.
As you can check these information during chat, you can see that the inquiry is from the target company or whether it is the distance that you can go to the meeting.
In other words, you can request an appointment within chat.
(you can get company names with more than the business plan.)
6. Link with external API
ChatPlus has released the API.
You can also link with external tools such as CRM, MA, SFA and external databases with APIs.
For example, you will be able to know who the user visited the website from e-mail magazine is.
You can also send the history that we exchanged in chat into the external system.
For both BtoB and BtoC, in enterprise information systems, data exchange between multiple systems is often a challenge, but with ChatPlus seamless cooperation is possible.
(Functions you can use with more than business plan)
Points to note when introducing chat
As described above, the channel "chat" is very effective not only for BtoC but also for BtoB marketing.
However, when using chat in BtoB marketing, you need to pay attention to only one point.
It is "Choose a tool that allows you to log in to the administration screen from multiple terminals".
When using chat for marketing of BtoB, I think the members responding of chat are sometimes salespeople who often go out.
Since you can not fix the system to operate chat, you have to adopt flexible rules like "people who are in the seat at that time will do".
Then, it is necessary to prepare an account for chat reply to all salespeople in the company.
The general chat tool will be charged according to the number of accounts.
If it is a company with 20 sales people, 20 × account fee will be the cost.
With expensive tools, it costs 10000 to 20000 yen per account.
The additional account of ChatPlus is 2,500 yen per month.
We are setting the lowest cost not only in domestic but also in overseas, but if the number of accounts increases, the cost will be high.
However, ChatPlus can use one account for multiple people.
Even if there are 10 or 100 salespeople, you can use chat at a very inexpensive cost.
Telephone, exhibition, seminar, e-mail marketing, DM etc.. There are various marketing methods of companies offering BtoB services.
Especially on the Internet there are many kinds of marketing, new measures are born one after another, such as ad network, SEO measures, video marketing, online seminars, lead generation services, etc.
However, whatever marketing tool it is, the salesperson wants to have a "highly reliable lead".
The purchasing process is very different between the service of BtoC and BtoB,.
In the case of BtoC, customers are satisfied on the spot and take the process of purchasing. On the other hand, in the case of B to B, customers recognize the problem, collect information, make a request for approval, and proceed to purchase. So it is common to take time.
Chat is the easiest to use and most effective tool to increase inquiries and make customers' needs evident.
Please use ChatPlus effectively and mass-produce 'High Accuracy Lead'.